Taurus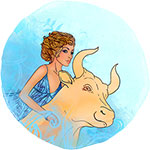 Apr 20 - May 20
---
Today's Horoscope
This week
This month
---
Taurus horoscope for June 2023
The one word that could sum up June 2023, is diverse. There is such a variety of forces in play that this is a month with a bit of everything. However, the most significant is Jupiter, who in his first full month in Taurus has brought you to the start of a new 12 year Jupiter cycle of expansion, with 12 months to explore new possibilities, open new doors and plant for the future. Jupiter returned in the final days of your birthday month so this was a natural extension, with looking to the next 12 months shifting gear to look to the next 12 years. Meanwhile, the Sun has moved on and as always, will spend the first three weeks of June in your income sector.
What is not the norm is to have Pluto in your career sector and while he will retrograde back out on 11th June, after nearly three months and before that the three years that Saturn has just spent here, there is plenty of professional momentum for income potential to draw on. It is the day before the Sun will leave your income sector on 22nd June that the dwarf planet Ceres will retrograde back into your work sector. Having retrograded back out a day before Pluto returned to your career sector and as if having waited for him to leave, Ceres is back to resume her deep dive into your needs and priorities on the job front.
Meanwhile, after doing her best to ensure the communication lines are open, Venus will leave your communication sector on 6th June in order to join Mars in your home and family sector. Mars will spend the whole month here, giving you the drive and the motivation to make things happen and to get things done. When Venus returns it should be for a 24 day visit that can make home where your heart is but instead, a retrograde turn next month will keep her here until October. This will give you plenty of time to turn desires into reality as Venus works her magic on the home front for the next four months.
Love & Romance
While romantic and relationship matters aren't at the forefront this month, this is an important month on both fronts and also the coming to an end of a chapter. On the romantic front, what is drawing to a close is the dwarf planet Ceres' extended visit to your romantic sector and her deep dive into your heart's needs and priorities. Ceres had already moved through late last year and had left just before Christmas. However, a retrograde turn three months later has brought an opportunity for a do over and the weeks spent in retrograde motion were a chance to revisit the past. Ceres will leave again on 21st June but this time she won't be making a U turn and coming back.
It will be another four years before Ceres is back in your romantic sector but with the Sun, Mercury, Venus and Mars all returning in the second half of the year there will be a blueprint for them to follow from the start. The Moon has already made its last visit before Ceres leaves, but it will return from 23rd June to 26th June. Returning two days after Ceres leaves will allow these romantically charged lunar vibes to pick up on her presence as you transition from a time of understanding your heart's needs and priorities to one where it is about having those needs met. Meanwhile, after nearly 18 months in your relationship sector, the South Node is also about to leave, though not until next month.
The South Node's last full month in your relationship sector is also the North Node's last in Taurus, with the two working in partnership since they returned in January 2022 to gain and maintain the right balance between your personal and relationship needs. What has made these final months a lot more significant is not just the better understanding of what you want from your relationships and what they need from you that you have gained, but the support from the planets in your communication sector. That includes the two months that Mars has recently spent here as well as from Venus, who will end her mission to give your heart and your relationships a voice when she leaves your communication sector on 6th June. Venus will still be here when the Moon moves through your relationship sector from 1st June to 3rd June, while the Sun will be in your communication sector when it returns on 28th June.
Business & Career
There is a changing of the guard on the professional front this month, with all planetary activity on the career front for the rest of the year ending, while things are starting up again on the job front but with a gap in the middle. It was back in March that the dwarf planet Ceres left your work sector, three months after returning for her first deep dive into your needs and priorities on the job front and especially when it comes to job satisfaction and a sense of purpose in four years. Ceres was not only here when the Sun, Venus and Mercury moved through your career sector but as Saturn wrapped up his three year visit. This also means that with Ceres here when Saturn left at least one of your two professional houses was still active.
It was just over two weeks later that a day after Ceres left your work sector Pluto returned to your career sector, benefiting from the start from both the continuity and the awareness of your needs and priorities on the job front. Why that is important this month is that things are changing back, with Pluto leaving on 11th June and after retrograding back out, Ceres returning to your work sector on 21st June. Back in March, this left you with no planetary activity in either of your two professional houses for less than 24 hours, whereas this time this will be for 10 days, with even the Moon not moving through either in that time.
This will be your first chance this year to step back and after all the water that has passed under the bridge this year put things in perspective. The Moon has just left your work sector as you move into the new month, giving you an intuitive read on work and job matters from the start. By the time it returns again from 26th June to 28th June Ceres will be back, making this a valuable chance to check in. Meanwhile, the Moon's return to your career sector from 7th June to 9th June will ensure your professional instincts and imagination are fuelled in the days leading up to Pluto's departure on 11th June.
Money
Because the Sun will always spend the first three weeks of June in your income sector, the solar spotlight is always on your income situation, matters and options at this time of year. The difference this year is the amount of foot traffic that has already moved through, including the seven months that Mars had spent here before leaving in March. Normally here for just six weeks, a retrograde turn made this Mars' longest visit in eight decades, something that Venus, the planet of money was keen to exploit when she returned. Venus has been and gone as well, but not before turning what Mars had urged you to fight for into motivation while leaving you with a lucrative sense of direction and even more untapped income potential.
However, this wasn't the only thing that Venus left behind, for while she had left by the time the Sun returned your income sector wasn't empty with the asteroid Juno, the queen of commitment staying on. This gave you time to turn Venus' desires into resolutions, so that by the time the Sun returned you had the path Mars had cleared, the motivation Venus has left you with and a sense of resolve. The only thing that you are waiting for now is Mercury, who will finally return on 11th June with the smart head for money needed to get your head in the game and to start tying up loose ends. Mercury is the last planet to reach your income sector this year and as the last to leave on 27th June, he will be taking his job of tying up loose ends seriously.
The Sun and Juno will both leave on 22nd June, though not before the Moon moves through. The Moon returns every four weeks and will always sharpen your nose for money and act as a trigger, but when it moves through from 16th June to 18th June it will be for the last time while there is planetary activity here this year. As the Moon passes through it will align with the Sun, Mercury and Juno, creating a New Moon on 18th June that will give the final days of all planetary activity on the income front for the year a boost. It is also while the Moon is here that it will move through your financial sector from 3rd June to 5th June, creating a Full Moon that will energise both sides of the financial fence.
Health
The Moon is just leaving your health sector as we move into the new month, with the tail end of its return last month grazing the very early hours of June. This allows you to begin the month with an intuitive read on what your body is telling you from the start, though with any messages already delivered. By the time the Moon comes full circle from 26th June to 28th June, it will be to find that it is no longer on its own, thanks to the dwarf planet Ceres' return on 21st June. Ceres began the year here but her first deep dive into your health needs and priorities in four years was put on hold when she retrograded back out in March. This time Ceres is back in direct motion and ready to start over, this time having already begun the journey.
---
You may also like