Taurus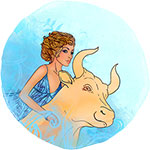 Apr 20 - May 20
---
Today's Horoscope
This week
This month
---
Taurus horoscope for May 2022
TAURUS
Because the Sun will always spend the first three weeks of May in Taurus, whether you were born in April or May, this is your birthday month and the start of a brand new solar year. As has been the case since his return in 2019, the Sun returned on 20th April to find Uranus here, continuing to open your mind to possibilities as he helps you follow your personal truth. However, for the first time in 17 years, the Sun returned to find the North Node in Taurus, with its return in January not only providing a sense of direction and purpose but this turns a New Moon on 1st April into a solar eclipse.
An eclipsing New Moon has a lot more momentum, giving the New Moon that will always fall at some point during your birthday month a lot more power to propel things forward. With the Moon not leaving Taurus until 2nd May, this gets the month off to a good start. While Mercury left Taurus in the final hours of April, even if he wasn't retrograding back in on 23rd May this would still allow you to start the month and move into this new solar year with your head in the game and your feet on the ground. Mercury will already be in your income sector when he turns retrograde on 10th May, something that will not only keep him here until 23rd May but will see him return next month.
In the same way that Mercury helped you to prepare for the Sun's return to Taurus last month, he is helping you prepare for his return to your income sector on 21st May. With Venus and Mars both returning over the coming months, this is the start of the most lucrative months of 2022 and with perfect timing. This comes just as things have become more steady and stable professionally, with a chance now to focus on the money. Meanwhile, held back by a retrograde turn late last year, Venus will finally return to Taurus on 29th May to give your heart a voice.
Love & Romance
The Sun's return to Taurus last month not only began your birthday month and new solar year but thanks to the lunar nodes, makes this an important month for both you and your relationships. Normally, apart from the Moon's return to your relationship sector and the Full Moon this will always create at some point during your birthday month, this has no ongoing impact on your relationships. However, that changed when the North Node returned to Taurus and the South Node to your relationship sector in January, where they have been policing a balance between your personal and relationship needs and will do until leaving in July 2023.
The impact from the Sun's return to Taurus has been twofold. Firstly, this sheds more light on a need for balance but also turns the New and the Full Moon during your birthday month into eclipses. This created an eclipsing New Moon in Taurus that began in the final hours of April and can still be felt as you move into the new month. Meanwhile, when the Moon moves through your relationship sector from 14th May to 16th May this will turn the Full Moon on 16th May into a total lunar eclipse. This is a Full Moon that will always see your personal and relationship needs clash but not to this degree or with this much history.
Yet in the final days of your birthday month, this will give you a clear sense of what you want from your relationships and what they need from you. Fortunately, this comes while there is still support from the planets in your friendship sector. Whatever the eclipsing Full Moon flushes out there will be support for friendship and relationship building. Meanwhile, the Moon's return to your romantic sector from 10th May to 12th May will make these the most romantically charged days of the month as well as a prelude for Venus, the planet of love's return to Taurus on 29th May.
Business & Career
What a difference a month can make. Last month not only began with Venus and Mars still in your career sector but aligned until they both left on 6th April. This was the tail end of a push that had begun with the Sun's return in January, keeping the momentum and the thrust of this professional year going for much longer than is usually the case. Even then, with the asteroid Juno, the queen of commitment still here you had spent much of last month turning not just the past few months into a sense of resolve but the time that Jupiter, the planet of luck and expansion had spent here in 2021.
Juno only left towards the end of last month, with Saturn spending his first full month on his own here in nine months. This was always going to bring the wild swings and the urgency of recent months to an end, with Saturn a sober and steady pair of hands at the wheel. With the resolve from Juno's time here banked, this has allowed you to define your professional resolutions for the coming year and it now becomes more about staying on track. However, as Saturn slows ahead of a retrograde turn early next month, this is also slowing things down, giving you better control and even a chance to catch your breath.
The Moon will make its last visit to your career sector before Saturn's retrograde turn from 21st May to 23rd May and with perfect timing. This will put the Moon at a friendly aspect to the Sun, who will return to your income sector on 21st May and to Mercury before he retrogrades back out of there on 23rd May. Meanwhile, with no planetary activity in your work sector but coming full circle from last month's Full Moon there from 12th May to 14th May, this will create positive conditions across the income, work and career fronts.
Money
While things become a lot more active on the income front this month, this is just the start of something that will continue to build over the coming months, becoming progressively more active. Until now, the only planet in either of your two money houses has been the dwarf planet Ceres, who since her return to your income sector last July has been less focused on the money and more on defining your income needs and priorities. Ceres' job has been to update those needs and priorities so when the planets that can make things happen return you are ready and have a sense of where to channel their resources.
That chance came in the final hours of April when Mercury returned for anything but his typical annual visit. Mercury will normally spend 14 to 15 days in your income sector each year, giving you the smart head for money needed to get your head in the game and your feet on the ground before moving on. As you move into the new month Mercury is just in his first full day in your income sector so this is something you are still adjusting to, but it will be clear from the start that there is no urgency. Mercury is slowing down and a retrograde turn on 10th May will not only stop him in his tracks but will see him retrograde back out on 23rd May. The Sun's return on 21st May will not only keep the momentum going but will shed even more light on your income situation, matters and options.
Because Mercury will retrograde back out, this means that when he turns direct, he will not only return next month but for a complete do over. Mercury won't eventually leave until July and with Venus returning by then and Mars beginning a rare seven month visit in August, this is just the start of something that will continue to build over the coming months. As things start to move on the income front the one thing that every planet moving through will enjoy is the support of Saturn, now a more steady and stable force on the career front. The Moon's return to your income sector from 2nd May to 5th May and again when it returns as a New Moon on 30th May could have lucrative implications.
Health
While the Sun returned to Taurus on 20th April and as the month long wind down of your old solar year ended this gave you a lot more energy and vitality, it might feel like you are still holding something back in reserve. This isn't enough to drain your energy, but it will be enough to encourage you to do things in moderation. There is still a need for downtime and when Mars returns to Aries on 25th May to begin the wind down of a nearly two year Mars cycle, you will need more time in the slow lane. Meanwhile, the Moon's return to your health sector from 12th May to 14th May will be a valuable chance to check in with what your body is telling you.
---
You may also like