Libra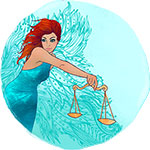 Sept 23 - Oct 22
---
Today's Horoscope
This week
This month
---
Libra Weekly horoscope for Dec 5 to Dec 11, 2022
This is one week when work/life balance will be important, as the stars dial up an important week on both sides of life's fence. It was Neptune's direct turn in your work sector on Sunday that released the final block that has been holding things back since Jupiter turned direct here 10 days earlier. With the planet of luck and expansion moving into his final two weeks in your work sector on Wednesday and the end of this professional year in sight, this brings you to an important point on the job front. Yet on the same day that Jupiter moves into his final two weeks in your work sector, the Moon not only returns to an adventurous part of your chart but teams up with Mars to create one of the most powerful Full Moons of 2022 just 24 hours later. This is something that will not only add fuel to Mars' passion for adventure but will fire up his war on roadblocks and barriers, whether real or imagined. Add in Venus and Mercury's return to your home and family sector this week and the right work/life balance couldn't be more important.
Love & Romance
While the Moon has just left your relationship sector as you move into the new week, this is something that not only sets the tone for the rest of the week but could have long term implications. This wasn't the Moon's last visit to your relationship sector for the year, but it was the last before Jupiter returns and already on his way back, this leaves you more emotionally engaged but also with a sense of anticipation. The week also begins with a friendly aspect between the Sun in your communication sector and Chiron, the planet of healing in your relationship sector just starting to separate. Both these set the week up for the perfect start when it comes to making the most of Venus and Mercury's final days in your communication sector and the importance of having the communication lines open. Mercury, the planet of communication will leave on Wednesday, but Venus won't leave until Saturday, with the planet of love continuing her mission to give your heart and your relationships a voice.
Business & Career
As you move into the new working week Neptune is at a standstill but in his first full week in direct motion in your work sector, is looking to the future. Since his return in 2012 this is the point in each professional year when the planet of dreams comes out of hibernation, but with the Sun and faster planets not usually returning until February the following year, this is more a chance to look to the future rather than move towards it just yet. However, having turned direct 10 days earlier and due to move into his final two weeks here on Wednesday, Jupiter doesn't have time to hang around and without Neptune holding things back the planet of luck and expansion is able to move things forward. This is when the push to bring this professional year home begins, while mindful that Neptune will stay on to continue what he can start. The Moon's return to your career sector on Friday will bring a chance to regroup over the weekend and to get your ducks in a row across the income, work and career fronts.
Money
As you move into the new week the Moon has just returned to your financial sector and until leaving on Wednesday, this will get the week off to a good start. This is the Moon's last visit to your financial sector for the year, with a chance to check in while allowing you to move into the new working week with your financial instincts and imagination fuelled from the start. However, coming full circle from last month's eclipsing Full Moon and with what was triggered four weeks ago having now run its course, this is a chance to close the loop. What is triggered on just an ordinary Full Moon can take until the Moon returns four weeks later to fully reveal itself, but even more so after a total lunar eclipse. This could see some unexpected, serendipitous or eureka moments when things all of a sudden fall into place. With the Sun no longer in your income sector, there won't be the financial tension experienced last month, though with income potential banked and riding the wave of forward momentum building on the job front.
Health
While you might not be bouncing off the walls with restless energy, you should find that you not only have a lot more energy and confidence but that you are finally looking to the future rather than the past. By the time Neptune turned direct in your health sector over the weekend Jupiter had been in direct motion here for 10 days but was held back by a need to keep one eye on the past. That has changed and with Jupiter picking up speed, this is giving you the confidence to move forward as you continue to take your power back on the health front. It is no longer about the past and more about what you are going to do from this point on, with Monday a chance to draw a new line in the sand.
---
You may also like