Tiger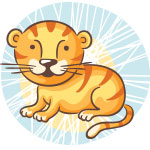 2010, 1998, 1986, 1974, 1962, 1950
---
Nov 30, 2023
Dec 1, 2023
Dec 2, 2023
---
Friday, December 1, 2023
Today, keep a low profile until you're directly called on to make sure you are prepared to answer for a decision you have made. Try to get people to understand that short-term sacrifice may lead to long-term success.
Tiger Weekly Horoscope: Nov 27 to Dec 3, 2023
The week is likely to get off to a busy start, as Monday's Full Moon not only brings you to the halfway point in the competitive and professionally charged month of the Pig but when it reaches its full potency. However, by midweek things will be coming off its peak intensity and with Monday's Full Moon a fun, playful, romantic and creative Horse Moon, this will be a timely reminder when it comes to a balance between work and play. Even without the Pig's influence, this is a naturally busier time of year and as this can fire up your competitive spirit, it is up to you to pick your battles wisely and monitor your own needs and priorities.
Tiger Monthly Horoscope: November 2023
When you have a New Moon on 13th November, something that will bring one lunar month to a close while ushering in the next, you are going to have a month of two halves. However, because of the contrast between the two halves, there is a need to fully embrace one before going on to the next. As you move into the new month you have just passed the halfway point of the adventurous month of the Dog, a month that is doing more than just put the focus on the adventurous side of life's fence. The Dog and the Tiger are the best of friends, so there will be a sense of confidence. In contrast, the New Moon on 13th November will usher in the competitive and professionally charged month of the Pig, something that will give the final weeks of this professional year a boost as well as anything that you can channel your competitive spirit into.
99

65

85

34

73

25

90

17

22
Power Numbers: 1, 9, 10, 58, 59, 63
Friendly Signs: Tiger & Pig
Beware of: Horse
Colour of the day: Medium Purple
Born Today: Mary Martin, Woody Allen, Lou Rawls, Richard Pryor, Bette Midler, Jeanne Allen
---
You may also like