Tiger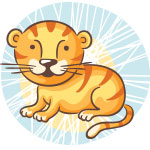 2010, 1998, 1986, 1974, 1962, 1950
---
Nov 28, 2022
Nov 29, 2022
Nov 30, 2022
---
Tuesday, November 29, 2022
You're likely to be entering a period of lethargy. You need a slower pace to revitalize and assess your recent gains and/or losses. Try to step back from things and focus on reenergizing and reorganizing. Your goals aren't going to leave you behind, and once your energy level rises you'll find it much easier to make progress towards realizing them.
Tiger Weekly Horoscope: Nov 28 to Dec 4, 2022
The first full week of any new lunar month is something to be embraced but especially when it is the social and serendipitous month of the Rat. For the Tiger, this is the most socially charged and connected month of any year and with the Moon still in its waxing or growth phase, this is likely to be a busy and vibrant week. With things to do, places to go and people to see it is important to also make time for yourself, recognising when you might need to put out the 'do not disturb' sign or say no to some invitations. You can't be all things to all people, all the time. Recognise when you might need to recharge your batteries.
Tiger Monthly Horoscope: November 2022
For the Tiger, the month of the Pig can be the most exciting and driven point in any professional year, but its influence will not just be felt on the professional front. For the Tiger, the competitive and professionally charged month of the Pig will speak to your competitive spirit while creating an urge to succeed. This makes this a good month to pursue your personal and professional goals and ambitions or anything that you can channel your competitive spirit into. A Pig Moon from 22nd November will provide the push to make the final days before the month of the Pig runs its course on 24th November count. This is when a New Moon will usher in the socially focused and serendipitous month of the Rat.
91

24

82

8

19

16

13

53

45
Power Numbers: 6, 7, 23, 29, 56, 58
Friendly Signs: Ox & Snake
Beware of: Goat
Colour of the day: Dark Green
Born Today: John Ray, Louisa May Alcott, C.S. Lewis, Garry Shandling, Petra Kelly, Kim Delaney, Gena Lee Nolin
---
You may also like