Rooster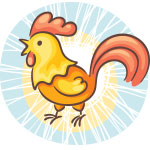 2017, 2005, 1993, 1981, 1969, 1957
---
Nov 30, 2023
Dec 1, 2023
Dec 2, 2023
---
Friday, December 1, 2023
Your friends are your biggest resource during this period. Spend time with those who care for you most, and try to open up to meeting new people. New beginnings may bring out a side of your personality you were not aware of.
Rooster Weekly Horoscope: Nov 27 to Dec 3, 2023
The Full Moon that sits in the middle of every lunar month brings you to both the peak and the halfway point of the month of the Pig, this is something that needs to be seized. For the Rooster, the month of the Pig is the Swizz army knife of any lunar year, with a tool for every occasion and especially when it comes to communication, mental focus and being able to think on your feet. That this peaks just as you move into the new working week is going to have a positive impact on the rest of the week, with a chance to own this from the start. Especially when it comes to managing your time, as you work to hold onto the influence of an adventurous Snake Moon that runs its course on Monday while seizing the opportunity that a Full Moon a competitive and professionally charged Horse Moon can bring.
Rooster Monthly Horoscope: November 2023
As you move into the new month you have just moved into the second half of the lucrative month of the Dog, which is not always just focused on the money. Yes, this can be the most lucrative months of any lunar year, but the Dog doesn't just focus on the money and works on the principle of a rising tide lifting all boats. In this case, the rising tide is a rise in confidence and belief in what you deserve and the boats represent all the currencies in your life. Meanwhile, the New Moon that will bring the month of the Dog to a close on 13th November will usher in the month of the Pig, which for the Rooster is the Swizz army knife of any lunar year, with a tool for every occasion. The Dog makes you smarter, more mentally focused and gives you even more of an advantage on the communication front than you already have.
Power Numbers: 1, 2, 30, 34, 50, 58
Friendly Signs: Horse & Pig
Beware of: Goat
Colour of the day: Light Gray
Born Today: Mary Martin, Woody Allen, Lou Rawls, Richard Pryor, Bette Midler, Jeanne Allen
---
You may also like