Rooster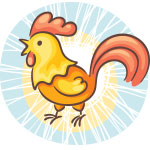 2017, 2005, 1993, 1981, 1969, 1957
---
Nov 28, 2022
Nov 29, 2022
Nov 30, 2022
---
Tuesday, November 29, 2022
You could be the recipient or invitation or gift today. You can respectfully attempt to decline but bear in mind that a refusal is tantamount to an insult. Be gracious at what is given, and remember that people often feel a sense of self worth through their generosity.
Rooster Weekly Horoscope: Nov 28 to Dec 4, 2022
The first full week of the month of the Rat is putting the focus on things close to home, something that can help you feel more grounded, allowing you to get back to basics. The problem could be a busy and industrious Tiger Moon from Monday to Wednesday, something that is likely to get the week off to a busy start. At what is already a busy point in any year, this might expose any work/life balance issues, but then as you can't change what you're not aware of, this is the right reminder at the right time. This should be an easy fix and especially if you put both work and home on equal footing and work to find a mutually beneficial balance.
Rooster Monthly Horoscope: November 2022
With the month of the Pig running through to 24th November, this is likely to be a good month across all areas of your life. For the Rooster, the month of the Pig is the Swizz army knife of any lunar year, with a tool for every occasion. The Pig makes your mind sharper, making it easier to think on your feet but also makes the communication lines run more smoothly, making it easier to find the right words at the right time. Anything in your life that will benefit from more open communication lines and from being able to think on your feet with more mental clarity, will benefit from the Pig's influence. It is a New Moon on 24th November that will usher in the month of the Rat, shifting the focus onto things close to home.
51

5

53

30

92

68

96

20

34
Power Numbers: 28, 29, 33, 51, 64, 69
Friendly Signs: Ox & Dog
Beware of: Dragon
Colour of the day: Dim Gray
Born Today: John Ray, Louisa May Alcott, C.S. Lewis, Garry Shandling, Petra Kelly, Kim Delaney, Gena Lee Nolin
---
You may also like