Rooster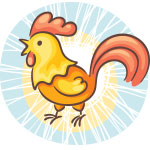 2017, 2005, 1993, 1981, 1969, 1957
---
Jun 28, 2022
Jun 29, 2022
Jun 30, 2022
---
Wednesday, June 29, 2022
You may be simply busying yourself for the sake of being busy today. Taking on an endless string of little tasks allows you to avoid thinking about what it is you want to do with your life right now. Possibly a break from deep thought is just what you need, but sooner or later you're going to have to make some changes in your life to achieve fulfillment. The sooner you think things out the better off you will be.
Rooster Weekly Horoscope: Jun 27 to Jul 3, 2022
A Horse Moon on Monday and Tuesday will not only get the working week off to a good start but will be a chance to make the most of the final days of the competitive and professionally charged month of the Horse and its association with the Year of the Tiger. The Tiger and Horse are not only the best of friends, this is a busy and industrious year with a lot of focus on work and job matters. While the Year of the Tiger will continue, Wednesday's New Moon will usher in the more social and serendipitous month of the Goat. This is something that will give both personal and professional networking a boost.
Rooster Monthly Horoscope: June 2022
Just starting the month under a competitive and professionally charged Horse Moon is getting things off to a good start professionally. However, while the Horse Moon will run its course on 1st June, this is just the tail end of a New Moon that has ushered the month of the Horse, which will dominate the month through to 29th June. For the Rooster, this is something that can give any professional year a boost but also anything that you can channel your competitive spirit into. The difference this year is that this is the busy and industrious Year of the Tiger. The Tiger and Horse are the best of friends, energising things across the job and career fronts. While this will dominate the majority of the month, the social and serendipitous month of the Goat will begin on 29th June.
33

41

21

46

36

34

15

66

62
Power Numbers: 21, 29, 40, 54, 57, 64
Friendly Signs: Dragon & Rat
Beware of: Snake
Colour of the day: Maroon
Born Today: Ed Gardner, Nelson Eddy, Gary Busey, Nicole Scherzinger, Richard Lewis
---
You may also like