Rat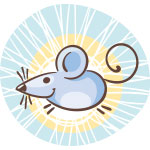 2020, 2008, 1996, 1984, 1972, 1960
---
Sep 26, 2022
Sep 27, 2022
Sep 28, 2022
---
Monday, September 26, 2022
Do not rely on words to convey your meaning. You are very emotional at this time and you need good company to keep you in check. Listen to your friends and don't take things too personally.
Rat Weekly Horoscope: Sep 26 to Oct 2, 2022
Just starting the week under a social and serendipitous Dog Moon is getting the week off to a good start. However, it is Monday's New Moon that also kicks off the month of the Dog, which for the Rat is a busy, vibrant and socially engaged month. Starting the week on a New Moon means that the Moon is also just starting its growth phase, creating a week where there are likely to be places to go and people to see. For the first time in 12 years, the month of the Dog is falling during the Year of the Tiger, something that not only makes it easier to communicate but where things are likely to flow more smoothly, knowing that they are natural allies.
Rat Monthly Horoscope: September 2022
For the Rat, the competitive and professionally charged month of the Rooster is an exciting month both personally and professionally. The Rooster combines a competitive spirit with a practical approach to doing whatever it takes for as long as it takes. The Rooster doesn't just help you set personal or professional goals but is a call to do whatever it takes for as long as it takes. The Rooster runs a tight barnyard and is not into wishful thinking, so if you want something to happen it is up to you to make it happen. The month of the Rooster will run through to 25th September, when a New Moon will usher in the more social and serendipitous month of the Dog.
Power Numbers: 13, 26, 28, 33, 51, 53
Friendly Signs: Snake & Horse
Beware of: Rat
Colour of the day: Pale Green
Born Today: T.S. Eliot, Martin Heidegger, George Raft, George Gershwin, Marty Robbins, Julie London, Bryan Ferry, Olivia Newton-John, Serena Williams
---
You may also like