Rabbit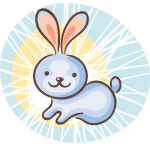 2011, 1999, 1987, 1975, 1963, 1951
---
Nov 28, 2022
Nov 29, 2022
Nov 30, 2022
---
Tuesday, November 29, 2022
You'll be excited about a new beginning occurring in your working world or in connection with your family life.Don't deprive yourself of the special things that really keep you happy because, in the scheme of things, you will ultimately be depriving everyone else of you-in-a-good-mood.
Rabbit Weekly Horoscope: Nov 28 to Dec 4, 2022
As you move into the final weeks of this professional year you are perfectly positioned to make this count. In the first full week of the competitive and professionally charged month of the Rat you will not only be feeling more competitive but in the first full week of the new lunar cycle, the Moon is in its waxing or growth phase. This is a week for throwing yourself into the things that excite you or that you can channel your competitive spirit into, capitalising on the hope and enthusiasm that comes with the start of a new lunar cycle. This is a week for taking on more than you can accomplish, knowing that you can narrow things down after next week's Full Moon, when the Moon will move into its waning phase.
Rabbit Monthly Horoscope: November 2022
While the month of the Pig is a month of two halves, less because of a line down the middle and more because of the contrast between how it starts and how it ends, they are both exciting. Until the New Moon on 24th November, the adventurous month of the Pig is in charge, bringing you to the start of what can be the most adventurous month of any year. As well as putting the focus on adventure, travel, learning and discovery, as the Rabbit and Pig are part of the same triad of affinity, life will flow more smoothly under its influence. It is on 24th November that there will be a real shift, with a New Moon ushering in the competitive and professionally charged month of the Rat.
49

35

58

38

4

94

26

42

18
Power Numbers: 11, 24, 29, 47, 53, 65
Friendly Signs: Rooster & Ox
Beware of: Goat
Colour of the day: Aqua
Born Today: John Ray, Louisa May Alcott, C.S. Lewis, Garry Shandling, Petra Kelly, Kim Delaney, Gena Lee Nolin
---
You may also like