Ox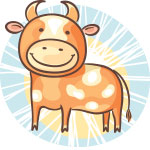 2021, 2009, 1997, 1985, 1973, 1961
---
Nov 28, 2022
Nov 29, 2022
Nov 30, 2022
---
Tuesday, November 29, 2022
As the day takes shape, you could find yourself working out financial complications that have been playing on your mind for ages.It'll come to you in a flash!Be sure everyone close to you gets their fair share of your attention or you may alienate some who feel ignored.
Ox Weekly Horoscope: Nov 28 to Dec 4, 2022
The first full week of any new lunar cycle is a time for looking to the future, for new beginnings and while the Moon is in its waxing or growth phase, to face the future with confidence and enthusiasm. Yet in the first full week of the nostalgic and reflective month of the Rat, you are also looking back. On the one hand, you are looking to the future and to both the month of the Ox and the start of a new personal 12 month lunar cycle next month while on the other hand, the month of the Rat is the final month in this current cycle. Starting the week with an Ox Moon just running its course is a glimpse of what is to come while giving you the motivation to start closing old doors and putting closure to this current chapter.
Ox Monthly Horoscope: November 2022
The social and serendipitous month of the Pig will run through to 24th November, making this an exciting and vibrant month, with places to go and people to see. This is a point in each lunar year when the focus is on your human connections, your social life, friendships and on all aspects of both personal and professional teamwork and networking. This is a time of year for being a team player and when you will be drawn towards aligning yourself with others. It is a contrast then when on 24th November the same New Moon that will bring the month of the Pig to a close will also usher in the more nostalgic and reflective month of the Rat. This is when you will need more time to reflect and to hear yourself think, as you reach the final stage in this current personal 12 month lunar cycle.
Power Numbers: 6, 18, 22, 29, 36, 38
Friendly Signs: Goat & Ox
Beware of: Rat
Colour of the day: Dark Sea Green
Born Today: John Ray, Louisa May Alcott, C.S. Lewis, Garry Shandling, Petra Kelly, Kim Delaney, Gena Lee Nolin
---
You may also like