Ox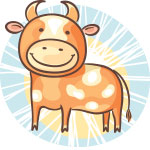 2021, 2009, 1997, 1985, 1973, 1961
---
Nov 30, 2023
Dec 1, 2023
Dec 2, 2023
---
Friday, December 1, 2023
You may not be at your best when it comes to making decisions, so be very careful what you choose to do today.Avoid over extending yourself.Be careful how you word things today. Something you say in jest may be taken seriously and cause tension.
Ox Weekly Horoscope: Nov 27 to Dec 3, 2023
The week is likely to get off to a busy start. Partly because Monday's Full Moon is a busy, industrious and work focused Horse Moon that doesn't run its course until Wednesday and partly because this brings you to the halfway and the most potent point of the social and serendipitous month of the Pig. The urgency will start to dial back by midweek, but with the month of the Pig having just two more weeks to run, its focus on people to see and places to go could see time become a precious commodity. This is a time of year when social engagements and commitments can often start to pile up, making it important to recognise when you need to make time for yourself.
Ox Monthly Horoscope:
20

3

72

34

59

22

47

68

100
Power Numbers: 1, 8, 13, 35, 47, 65
Friendly Signs: Pig & Rabbit
Beware of: Snake
Colour of the day: Violet
Born Today: Mary Martin, Woody Allen, Lou Rawls, Richard Pryor, Bette Midler, Jeanne Allen
---
You may also like