Ox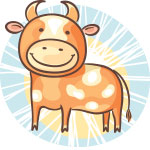 2021, 2009, 1997, 1985, 1973, 1961
---
Jun 28, 2022
Jun 29, 2022
Jun 30, 2022
---
Wednesday, June 29, 2022
You are excitable and restless today and may do something quite unexpected and out of character. Impatience with dreary routine and the desire for freedom and change may spur you to do something you normally consider adolescent or irresponsible. You are very insistent on your own "rights", needs and preferences at this time.
Ox Weekly Horoscope: Jun 27 to Jul 3, 2022
A Horse Moon could see the week get off to a busy start and even more so it will be here on Monday and Tuesday, the final two days of the busy and industrious month of the Horse. As this busy month draws to a close, this might get the week off to a busy start but more emotionally and intuitively engaged this will also make it easier to prioritise. Meanwhile, Wednesday's New Moon will usher in the month of the Goat, putting the focus on your relationships while also bringing you to the halfway point in your current personal 12 month lunar cycle. This might bring some wakeup calls over the coming weeks but with it a chance for a reset.
Ox Monthly Horoscope: June 2022
The busy and industrious month of the Horse began late last month but the Horse Moon that ushered this in is still running its course on 1st June. This makes this something brand new and after the fun, playful, romantic and creative month of the Snake dominated most of May, you are still adjusting to its busy work ethic. This might be a busy month but this will also be a good month for work and job matters or for anything that you put your time and energy into. Especially as for the first time in over a decade this is playing out during the lucrative Year of the Tiger. Not only are you more likely to benefit financially from your hard work, as the Tiger and Horse are the best of friends they will be helping each other out.
64

53

31

37

88

74

90

87

85
Power Numbers: 2, 19, 26, 29, 45, 49
Friendly Signs: Snake & Rooster
Beware of: Dog
Colour of the day: Fuchsia
Born Today: Ed Gardner, Nelson Eddy, Gary Busey, Nicole Scherzinger, Richard Lewis
---
You may also like