Monkey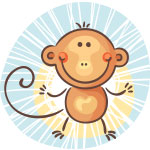 2016, 2004, 1992, 1980, 1968, 1956
---
Nov 30, 2023
Dec 1, 2023
Dec 2, 2023
---
Friday, December 1, 2023
You have excellent opportunities to develop your mental faculties, and therefore enhance your communication skills. This will be twofold. One, you'll be able to better adapt and secure professional positions which come your way. On the other hand, your personal relationships will be able to flourish under the auspices of clearer expression of your feelings.
Monkey Weekly Horoscope: Nov 27 to Dec 3, 2023
Monday's Full Moon will bring you to the halfway point in the month of the Pig but at the same time, it means that the fun, playful, romantic and creative month of the Rat is now just two weeks away. The Pig will continue to keep the focus on things close to home or those ordinary daily routines and rituals that help to keep the wheels moving, there is likely to be a sense of anticipation as more fun, playful and creative times literally draw closer by the day. In these final days of the month of the Pig and with the month of the Rat just around the corner, there is a growing focus on taking care of housekeeping or your homework so that when the time comes you will be free to play.
Monkey Monthly Horoscope: November 2023
The New Moon on 13th November was always going to make this a month of two halves, but it is the first half that will have a big influence on the rest of the month but also on most areas of your life. For the Monkey, the month of the Dog which runs its course on 13th November is the Swizz army knife of any lunar year, with a tool for every occasion. As well as improving your mental focus, the Dog makes it easier to keep your head in the game, think on your feet and helps with all aspects of communication. This is something that you can take with you when the New Moon ushers in the month of the Dog and its more specific focus on home, family and on all things close to home.
84

79

93

63

5

27

49

36

96
Power Numbers: 1, 5, 11, 14, 28, 68
Friendly Signs: Goat & Rabbit
Beware of: Horse
Colour of the day: Lime Green
Born Today: Mary Martin, Woody Allen, Lou Rawls, Richard Pryor, Bette Midler, Jeanne Allen
---
You may also like