Horse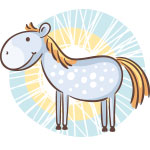 2014, 2002, 1990, 1978, 1966, 1954
---
Nov 28, 2022
Nov 29, 2022
Nov 30, 2022
---
Tuesday, November 29, 2022
This is a time for making long-range plans, seeing the big picture, and thinking about what is really important to you in the long run. The trivial details and business of day-to-day living does not dominate your attention now.This is also an excellent time for business functions, negotiations, and communicating with the world at large.
Horse Weekly Horoscope: Nov 28 to Dec 4, 2022
The first full week of the month of the Rat is a chance to adjust to its influence while it is still going easy on you. For the Horse, this can be a challenging month but with a purpose. The Rat is not just your opposing sign, but the month of the Rat brings you to the halfway point in your current personal 12 month lunar cycle and with a chance to check in. This is an opportunity for a reset but halfway between the last month of the Horse and the next when the intentions made six months ago may have been forgotten, it is the Rat's job to wake up to them. You might find that your buttons are more easily pressured but only because you are becoming more sensitive and awake to your own needs and priorities.
Horse Monthly Horoscope: November 2022
For the Horse, the busy, industrious and work focused month of the Pig can be the busiest month of any lunar year. Whether at work or with anything that keeps you busy and occupies your time, you are likely to find that you are busier than usual but also that you can get a lot done. It is the industrious nature of the Pig that encourages you to roll up your sleeves, ready to do whatever it takes for as long as it takes. A Pig Moon from 22nd November to 24th November will help you squeeze as much into the final days of this busy month as possible. It is then that the month of the Pig will end and the month of the Rat will begin, bringing you to the halfway point in this current personal 12 month lunar cycle and with it a chance for a reset.
91

69

11

17

44

59

50

77

33
Power Numbers: 29, 30, 46, 50, 67, 69
Friendly Signs: Snake & Dragon
Beware of: Rabbit
Colour of the day: Medium Slate Blue
Born Today: John Ray, Louisa May Alcott, C.S. Lewis, Garry Shandling, Petra Kelly, Kim Delaney, Gena Lee Nolin
---
You may also like