Dragon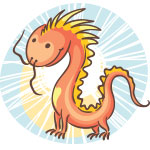 2012, 2000, 1988, 1976, 1964, 1952
---
Nov 28, 2022
Nov 29, 2022
Nov 30, 2022
---
Tuesday, November 29, 2022
You could be feeling annoyed by extravagance and waste on the part of others today, but the truth is you may not have the power to decide what others do. Tightening your own belt is a matter of self discipline, and setting the example is the only way you are going to educate others.
Dragon Weekly Horoscope: Nov 28 to Dec 4, 2022
Everything about the first full week of the adventurous month of the Rat is exciting. With the Moon still in its waxing or growth phase and not set to peak until next week, this is a point in any lunar month when everything is new, expansive and full of hope. When this is also the month of the Rat, with its focus on adventure, travel, learning and discovery and what is being expanded or amplified is a sense of wanderlust, curiosity and adventure, there is nothing not to like about this. However, the Rat doesn't just make life more exciting. As the Rat and Dragon are the best of friends, he will work to make life run as smoothly as possible for you.
Dragon Monthly Horoscope: November 2022
With the month of the Pig dominating the first three weeks of November, this is a chance to give your financial situation and money matters as much attention as possible. This is also a good time to start looking to the New Year and any resolutions, with the Pig not only putting the focus on money matters but on change and transformation. While the month of the Pig won't run its course until 24th November, a Pig Moon will start bringing things home from 22nd November. By then, there should be a growing sense of anticipation as the adventurous month of the Rat draws closer. As well as putting the focus on adventure, travel, learning and discovery, the Rat and Dragon are part of the same triad of affinity, with life flowing more smoothly under its influence.
61

57

86

46

83

5

48

36

95
Power Numbers: 19, 25, 26, 28, 29, 45
Friendly Signs: Ox & Tiger
Beware of: Rat
Colour of the day: Linen
Born Today: John Ray, Louisa May Alcott, C.S. Lewis, Garry Shandling, Petra Kelly, Kim Delaney, Gena Lee Nolin
---
You may also like