Dog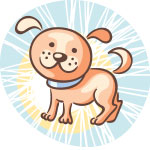 2018, 2006, 1994, 1982, 1970, 1958
---
Jun 28, 2022
Jun 29, 2022
Jun 30, 2022
---
Wednesday, June 29, 2022
For the person who has everything, it could be a hard job trying to work out what to buy.Take into account the special needs of someone older than yourself when considering a residential move.You need to thoroughly concentrate on an intricate problem if you want good and immediate results.
Dog Weekly Horoscope: Jun 27 to Jul 3, 2022
Even if the adventurous month of the Horse wasn't coming to an end on Wednesday's New Moon, a Horse Moon on Monday and Tuesday would still create a case of Mondayitis. This is being spurred on by the Horse's friendly association with the Year of the Tiger and its playful and creative influence. The Horse and the Tiger will be doing their best to keep the focus on the playful, adventurous and creative side of life's fence on Monday and Tuesday. Partly because they want to make their final days together count and partly because they know that Wednesday's New Moon will usher in the competitive and professionally charged month of the Goat.
Dog Monthly Horoscope: June 2022
For the Dog, the month of the Horse is one of the most anticipated months of any year and not just because of its adventurous influence. The Dog and Horse are part of the same triad of affinity, which means they are natural allies and this will always be a good month for you. The difference this time is that this is the Year of the Tiger and the Tiger is the third member of this special triad. The fun, playful, romantic and creative Year of the Tiger has been in effect for months and will be for the rest of 2022, but as the Horse and Tiger come together this will amplify the impact from both. With the competitive and professionally charged month of the Goat starting on 29th June, the Horse and Tiger will be working until then to focus on the playful and adventurous side of life's fence.
48

92

26

97

13

64

54

33

42
Power Numbers: 13, 19, 24, 29, 32, 40
Friendly Signs: Goat & Rooster
Beware of: Tiger
Colour of the day: Dodger Blue
Born Today: Ed Gardner, Nelson Eddy, Gary Busey, Nicole Scherzinger, Richard Lewis
---
You may also like