Dog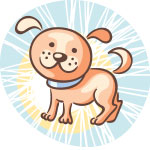 2018, 2006, 1994, 1982, 1970, 1958
---
Nov 28, 2022
Nov 29, 2022
Nov 30, 2022
---
Tuesday, November 29, 2022
You're at a standstill between thoughts and feelings. What your brain is telling you may not be what your heart desires. Be careful what you sign today and don't commit to anything long term.
Dog Weekly Horoscope: Nov 28 to Dec 4, 2022
The first full week of the month of the Rat gives you a chance to test drive its influence and get a feel for the positive impact this can have in almost every aspect of your life. For the Dog, the month of the Rat is the Swizz army knife of any lunar month, with a tool for every occasion. As well as making it easier to think on your feet, the Rat allows all aspects of communication to run more smoothly, something that you are still getting a feel for. It is during a playful and creative Tiger Moon from Monday to Wednesday that you will find this gives you a creative edge, while during a busy and industrious Rat Moon from Wednesday to Friday that you can work smarter. By the weekend, a Dragon Moon will be using this to get the communication lines open on the relationship front.
Dog Monthly Horoscope: November 2022
When the month of the Dog ended towards the end of last month, this brought to an end the foundation month of a new personal 12 month lunar cycle, with fresh intentions and resolutions for the coming year. It is the month of the Pig that is now giving you the confidence to embark on the journey towards turning those intentions and resolutions into reality. As the Pig can boost your confidence, this can also be a lucrative month. However, it is not just about the money, with the more confident you feel the more likely you are to believe in yourself. As you can't attract what you don't believe you deserve, this can benefit all the currencies in your life. It is on 24th November that a New Moon will usher in the month of the Rat, with its focus on communication and mental clarity.
51

44

13

3

91

40

86

23

96
Power Numbers: 16, 24, 29, 41, 54, 63
Friendly Signs: Rat & Horse
Beware of: Dragon
Colour of the day: Steel Blue
Born Today: John Ray, Louisa May Alcott, C.S. Lewis, Garry Shandling, Petra Kelly, Kim Delaney, Gena Lee Nolin
---
You may also like