Cancer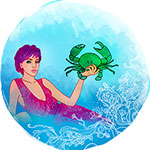 Jun 21 - Jul 22
---
Today's Horoscope
This week
This month
---
Cancer Weekly horoscope for May 23 to May 29, 2022
As you move into the new week it has been 12 days since Jupiter, the planet of luck and expansion returned to your career sector and with Venus leaving over the weekend, there should be a push to have your professional hat on from the start. Instead, even the professional gods are standing back, knowing that Mars' final days in an adventurous part of your chart are important both personally and professionally. The Moon has just returned here as we move into the new week, something that will add fuel to Mars' passion for adventure in the lead up to his departure on Wednesday. Yet knowing that both the Moon and Mars will not only return to your career sector within hours of each other but to set everything alive, this is a chance to hold back. This comes just as the Sun's return to a nostalgic and reflective part of your chart over the weekend has begun the month long wind down of your current solar year, something that will require more time to hear yourself think.
Love & Romance
There is good news on both the romantic and relationship fronts this week and part of this is thanks to the Moon. The Moon left your relationship sector over the weekend, leaving you more emotionally engaged along with a better sense of what you want from your relationships and what they need from you. This was the Moon's first visit since Pluto's retrograde turn here but also since the dwarf planet Ceres returned to Cancer. It was their clash that put a balance between your personal and relationship needs to the test for the first time this year when there is equal weight on both sides. It is a friendly aspect between Pluto and Mercury, the planet of communication midweek that will not only promote friendship and relationship building but will put the focus on the past and second chances. Meanwhile, having the Moon and Mars in an adventurous part of your chart until they both leave on Wednesday will add fuel to a mix of romance, passion and adventure.
Business & Career
As you move into the new working week it has been 12 days since Jupiter, the planet of luck and expansion returned for his first visit to your career sector since 2011, something that you are still adjusting to. Even though Venus will leave over the weekend and her mission to fuel your professional confidence, attract opportunities and steer things in a lucrative direction is drawing to a close, there is still no urgency. Instead, there may even be a sense that you are still waiting for something. That something is Mars' return on Wednesday, 14 days after Jupiter returned and four days before Venus is due to leave. Mars and Jupiter will be aligned by the end of the week, bringing together the planets of war and luck as they join forces to fire things up professionally in a way not seen in over a decade. In a case of good timing, the Moon's return just a few hours ahead of Mars will ensure your professional instincts and imagination are fuelled and you are emotionally and intuitively engaged from the start.
Money
The week begins with the Moon having just left your financial sector, something that allows you to begin the week with your financial instincts and imagination fuelled but also feeling more emotionally and intuitively engaged from the start. As the Moon's last visit before Saturn's retrograde turn here later next week, this has also given you a read on the fact that the wheels of this financial year are turning a lot more slowly and will soon not only come to a standstill but start moving back in the other direction. This is taking the urgency out of this financial year but also the pressure, for while Saturn is demanding that you take your financial power back and that means taking responsibility, this doesn't have to happen overnight. Meanwhile, ahead of her departure from your career sector over the weekend Venus, the planet of money's mission to steer this professional year in a lucrative direction is gaining real support.
Health
After the Moon's visit to your health sector last week and the chance this gave you to check in, you will have a better read on what your body is telling you and especially how far you can and can't push yourself. In the first week of the month long wind down of your old solar year and with life set to become even busier, the biggest takeaway from this was recognising how far you can or can't push yourself. This is a time of year when there is a greater need for time to hear yourself think, with a chance to ease into this on your own terms.
---
You may also like