Aquarius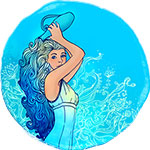 Jan 20 - Feb 18
---
Today's Horoscope
This week
This month
---
Aquarius horoscope for October 2023
What makes October such an exciting month is partly because of just how different it is from last month and partly because of the pace and the variety it brings. September began with almost every planet in the solar system in retrograde motion and apart from the Sun, the only planet that ended the month in a different part of your chart from where it began was the dwarf planet Ceres. This month Mars and Venus are on the move and Mercury will spend time in three different areas of your chart, meaning that nothing is going to remain stagnant or stuck. It helps too that there is plenty of variety, but the price that you will have to pay for that is making your work/life balance a priority. Especially if you want to have it all.
Because the Sun will always spend the first three weeks of October in your sector of adventure, travel, learning and discovery, the solar spotlight is always on the adventurous side of life's fence at this time of year. However, the Sun returned to find that the dwarf planet Ceres had just left though not before updating your bucket list, while for the first time in 15 years Mars is here, fuelling a passion for adventure and a hunger for life's richer experiences. Throw in a solar eclipse here on 15th October and you have a month where life is crying out to be embraced. However, new doors are also opening on the professional front and in an exciting new way.
While the dwarf planet Ceres returned last month to begin her first deep dive into your professional needs and priorities in four years and has already made contact with planets in your income sector, things won't really heat up until Mars returns on 12th October. This is going to give this professional year its second wind and is something that will continue to gain momentum for the rest of the year. Meanwhile, after four months Venus is also on the move, finally leaving your relationship sector on 9th October. By the time Venus leaves and turns her attention to money matters, you will know what you want from your relationships.
Love & Romance
When Venus, the planet of love returned to your relationship sector in early June it was to begin what is normally a 24 day mission to not only update your relationship desires and expectations but to turn those desires into reality. Venus will normally move through with the Sun but as he doesn't return until towards the end of July each year, this was so ahead of schedule that she was forced to wait. This is as far ahead of the Sun that Venus could get without a retrograde phase forcing her to wait, which is exactly what happens and is why, four months later as you move into October she is still here.
Venus is back in direct motion and will finally leave on 9th October, but she is not on her own. It was in the heart of Venus' longest visit to your relationship sector in our lifetime that the asteroid Juno, the queen of commitment and especially commitment to your relationships returned for her first visit in four years and with incredibly good timing. Venus and Juno will begin the month aligned, giving you the resolve and the confidence to commit to the journey that will continue long after they leave. With so much water having passed under the bridge, you will know by now what you want from your relationships.
When Venus leaves on 9th October and Juno on 18th October this will leave your relationship sector empty, but with everything needed to continue the journey. Helping to get the most out of these final days will be the Moon, who moving through from 8th October to 11th October will ensure you are emotionally engaged when Venus leaves on 9th October. Meanwhile, while there is no planetary activity in your romantic sector, the Moon will move through from 3rd October to 5th October and will return again on 31st October, where it will see out the month while making these the most romantically charged days of the month.
Business & Career
It is a given that the Sun will always end October in your career sector and while he won't be here until 24th October, it is not unusual for things to start up earlier than that. However, this is usually because either Venus or Mercury, who travel close to the Sun can return ahead, during or after his time. This time, while Mercury will return on 22nd October, this is not what will set things in motion much earlier this year. The month begins with the dwarf planet Ceres in your career sector and while she is not here to get things moving, her return last month will have a big impact on what comes next.
Until then, Ceres' first deep dive into your professional needs and priorities in four years is a chance to reassess your definition of success, factoring in things like professional satisfaction and a sense of purpose. This will prove pivotal when on 12th October Mars, the planet of passion and the warrior planet of the cosmos returns for his first visit to your career sector in two years. Mars is focused on making things happen and moving things forward and thanks to Ceres, you have a sense of where to channel his warrior and competitive spirit from the start. With Mars not leaving until later next month and Venus keeping the momentum going through to December, the last three months of this professional year could be some of the best.
Meanwhile, before Mars returns the Moon will make its monthly visit to your work sector from 6th October to 8th October. As well as giving you a better read on work and job matters and even acting as a trigger, a friendly aspect to Ceres and to both planets in your income sector will make these an important few days across the income, work and career fronts. Equally significant in terms of timing will be the Moon's return to your career sector from 16th October to 18th October. Returning during Mars' early days and ahead of the Sun and Mercury's return, this will ensure your professional instincts are sharp and you are emotionally and intuitively engaged as this professional year catches its second wind.
Money
On both sides of the financial fence there is reason for confidence and to expect a good month for both income and financial matters, though for different reasons for each. In both cases the money gods are playing a game of bait and switch, in that what you see when you move into the new month is not the kind of month that you actually end up having. Fortunately, with things getting a lot better on both sides of the financial fence. In your financial sector, the side of the financial fence where the focus is on your financial situation and money matters and especially when it comes to what you do with and how you manage the money you have, first impressions suggest that it is time to wrap things up.
The Sun and Mars have already moved through and over two months after returning for what is usually a 14 to 15 day visit, Mercury is finally getting ready to leave on 5th October. This will leave your financial sector empty and this is when the first bait and switch comes in, for it is just four days later that things will ramp up again. Held back by a retrograde phase Venus, the planet of money will finally return on 9th August, followed nine days later by the asteroid Juno, the queen of commitment who will return on 18th October but won't leave until August 2024.
By the time the Moon returns from 11th October to 13th October Venus will have already begun her mission to fuel your financial confidence, update your financial desires and expectations and work to turn those desires into reality. It is while the Moon is here that the other side of the financial fence gets a boost, though in a more indirect way. With both planets in your income sector still in retrograde motion but Saturn turning direct early next month, the focus is still on the past, second chances and untapped income potential, though with change ahead. However, what gives this a boost is Mars' return to your work sector on 12th October, something that will open the floodgates to new job potential, with the Moon's return to your income sector from 24th October to 26th October a chance to capitalise on this.
Health
With no planetary activity in your health sector, the Moon's one visit to your health sector this month will make these the most important of the month for paying attention and for listening to what your body is telling you. This includes both what you do and don't want to hear. The Moon will move through from 6th October to 8th October, early enough in the month that you can use the insight to get off on the right foot but not so soon that it catches you off guard. The Moon will not only move through but will clash with Pluto in his final days in retrograde motion in a nostalgic and reflective part of your chart. This is going to give you a read on how well you are heeding Pluto's call to pace yourself.
---
You may also like