Aquarius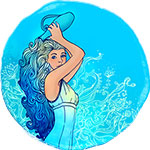 Jan 20 - Feb 18
---
Today's Horoscope
This week
This month
---
Aquarius horoscope for January 2023
As you move into the New Year there are some big changes already underway while there are more to come. So much so that by the end of the month this will have unlocked the planets that will shape the coming year. While you will start the year with a sense of what the coming year holds, by the end of the month the full picture will be revealed. All the pieces to the jigsaw are there, you can see them all laid out in front of you but the one thing still missing is the picture on the front of the box that will show you where all the pieces go. This is something that will slowly be revealed over the course of the month.
What is clear from the start is that this is the year for taking your power back, even if you don't yet know what shape or form this will take, only that this is something you have been preparing for, for much of the last three years. Things will start to take shape when on 3rd January Venus not only makes an early return to Aquarius but just five days before Saturn moves into his final three months here. Until she leaves on 27th January Venus will unlock much of what this coming year has to offer and not just a better sense of where and how you can take your power back.
As she moves through Venus will connect with Mars, who will turn direct in a fun, playful, romantic and creatively charged part of your chart on 13th January, revealing a little more on the picture. Venus will also connect with the dwarf planet Ceres in her first full month in an adventurous part of your chart for the first time in four years, revealing more of the picture. Venus is also here to witness Jupiter's first full month back in your communication sector and the powerful impact this will have on all your relationships. By the time the Sun returns to Aquarius to begin your birthday month and new solar year on 20th January, that picture will be even clearer, giving you the confidence to embrace a New Moon on 22nd January and the chance this will bring to commit to your new solar year, the future and the journey ahead.
Love & Romance
With no planetary activity in your relationship sector, apart from the Moon's first visit for the year from 8th January to 10th January, there is not a lot of focus on your relationships this month. This does make it important to pay attention as the Moon moves through. It is a different story on the romantic front, with the love gods banding together to get the year off to a romantically charged start. As you move into the New Year Mars, who returned to your romantic sector in August for what is usually a six week visit is not only still here but is still in retrograde motion. It was Mars' retrograde turn in October that will keep him here until March, making this his longest visit in eight decades.
In retrograde motion, the warrior planet of the cosmos is channelling his romantic passions and fighting spirit into declaring war on old excuses, roadblocks and barriers, whether real or imagined as well as fighting to make the most of the doors open to the past and second chances. However, change is in the air and Mars is already slowing down ahead of his direct turn on 13th January at the same time that additional help is on the way. Two events, just minutes apart on 3rd January are set to take an already romantically charged start to the year to the next level and then keep it there.
It begins with Venus, the planet of love's return to Aquarius and continues just 35 minutes later when the Moon returns to your romantic sector for the first time this year. This is the first of two visits that the Moon will make, returning again on 30th January where it will see out the month. However, it is the first visit that will not only see romantically charged lunar vibes kick in during Venus' early days but a friendly aspect to Mars as it moves through will create a bridge between the planets of love and passion. With Venus not leaving until 27th January, she will be here to get the most out of Mars' final days in retrograde motion and his early weeks in direct motion.
Business & Career
While this is mostly a quiet month professionally and a quiet start to your professional year, there will be one wild card thrown in. You also move into the New Year with the South Node in your career sector, something that is helping to maintain a steady sense of direction but also a link to the planets in your income sector. While the Sun doesn't return to your income sector until February each year Venus, the planet of money will return on 27th January while Jupiter only just left late last month. Professionally and financially, this allows you to start the year with confidence but no urgency.
This also puts a lot more importance on the Moon's first visits to your two professional houses for the year and the role they will play in getting your bearings and getting things off on the right foot. The first will be the Moon's return to your work sector from 6th January to 8th January and this is when the professional gods will play their first wildcard of 2023. When the Moon returns every four weeks this will give you an intuitive edge, can act as a trigger and at a time of year when there is no planetary activity here these will be the most important days of the month for work and job matters. What makes this a wildcard is that this is where the first Full Moon of 2023 will fall on 7th January.
A Full Moon can act as a catalyst, with the potential for unexpected, developments. Meanwhile, while just an ordinary monthly visit, the Moon's return to your career sector from 16th January to 18th January is just as important. As well as fuelling your professional instincts and imagination, this will give you a better read on the South Node's sense of professional direction. This is a chance to get your professional bearings and two weeks into 2023, get a feel for the pulse of this new professional year just days before Venus' return to your income sector and what can be the most lucrative weeks of any year.
Money
While things may feel more dialled back on the income front as you move into this new financial year, it is a tactical retreat than anything blocking you. It was just before Christmas that Jupiter not only left your income sector but for the third time since he returned in May 2021 and for the second time in 2022. This time there will be no turning back and the planet of luck and expansion won't return until 2033, but he leaves behind a lasting legacy. Had Jupiter been on his own this would have left you with a lot of momentum and potential and a sense of what's possible.
While that is still the case, Jupiter wasn't on his own and he leaves behind Neptune, the planet of dreams and the asteroid Juno, the queen of commitment who have just spent the final days of 2022 aligned. With Juno leaving on 13th January but Venus, the planet of money returning on 27th January, this allows you to move into the New Year with a sense of resolve and the commitment to turn Neptune's dreams and Jupiter's sense of what's possible into reality. However, with Jupiter gone and Venus not returning until later in the month there is a chance to pause, pull back and catch your breath because this journey is far from over.
Not only do you have Venus returning to your income sector later this month and the Sun and Mercury next month but in March Saturn will return for the first time in three decades. It is then that Neptune and Saturn will spend the next three years turning the dreams that Jupiter has spent most of the last two years promoting into reality. The Moon will make its first visit to your income sector for the year from 24th January to 26th January, ensuring your nose for money is sharp when Venus returns a day later. Meanwhile, with no planetary activity on the other side of the financial fence, the Moon's return to your financial sector from 11th January to 13th January will be a chance to check in on money matters.
Health
With no planetary activity in your health sector, the Moon's monthly visits are key to staying connected with what your body is telling you and its first visit for the year is no exception. The Moon will make its first visit to your health sector for 2023 from 6th January to 8th January but because this is during the month long wind down of your old solar year, this will create the first of two Full Moons in your health sector this year. The first is now, right at the start of the year and the second will be at the end of the year, by which point you will be summing things up. This time, as well as giving you a read on what your body is telling you, the Full Moon on 7th January will be an opportunity for a reset.
---
You may also like