Ox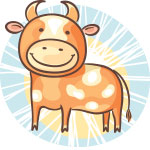 2021, 2009, 1997, 1985, 1973, 1961
---
Oct 2, 2023
Oct 3, 2023
Oct 4, 2023
---
Wednesday, October 4, 2023
This is a good time to assert your own needs and desires, to communicate to others what you really want. You are sharp, clear, decisive, and articulate. You can't stand being idle now; you are ready for challenging, intellectual activities and attacking difficult problems on the job.
Ox Weekly Horoscope: Oct 2 to Oct 8, 2023
Knowing that an eclipsing New Moon at the end of next week will get the competitive and professionally charged month of the Dog off to a good start, this gives you the confidence to hold something back in reserve. While a busy, industrious and work focused Horse Moon will be in effect in the heart of the working week, as you move into the final two weeks of the adventurous month of the Rooster there is a call to make these final two weeks count. Helping to get this off to a good start will be a playful and creative Snake Moon on Monday and Tuesday and its reminder that life can't be all work and no play.
Ox Monthly Horoscope: October 2023
An eclipsing New Moon on 15th October makes this a month of two halves for everyone, but for you it is the nature of those two halves that makes for almost two separate months. The month begins with the adventurous month of the Rooster having just reached its halfway point and for the first two weeks of the month, this is putting the focus on adventure, travel, learning and discovery. As the Ox and the Rooster are part of the same triad of affinity, there is also a sense of confidence and spontaneity. This is something that needs to be embraced, for when the month of the Rooster ends on 15th October this will usher in the competitive and professionally charged month of the Dog. This will not only put the focus on your professional game but anything that you channel your competitive spirit into.
Power Numbers: 2, 4, 7, 11, 44, 51
Friendly Signs: Monkey & Ox
Beware of: Dog
Colour of the day: Light Gray
Born Today: Millet, Frederic Remington, Buster Keaton, C. DeLores Tucker, Anne Rice, Susan Sarandon, Armand Assante, Rachael Leigh
---
You may also like