Rat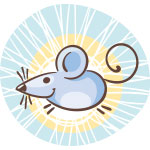 2020, 2008, 1996, 1984, 1972, 1960
---
Dec 6, 2022
Dec 7, 2022
Dec 8, 2022
---
Tuesday, December 6, 2022
If you have taken the time to plan ahead, you could be reaping the rewards by as early as today.You'll be pleased with the way the communication is shaping up between yourself and a hard-to-please relative or friend.A complicated project will come to fruition soon.
Rat Weekly Horoscope: Dec 5 to Dec 11, 2022
As you approach Thursday's Full Moon and the halfway point of the month of the Rat, the more important it will become to stand by your personal truth and especially when that is being challenged or if you feel that you have to compromise this in order to fit in. This is a Full Moon that will always put your resolve to the test at some point during the month of the Rat and any tension or stress this might create is simply showing you where you might be giving some of your power away. As you move into the final two weeks of the month of the Rat and the foundation month of a new personal 12 month lunar cycle, this comes with a chance for a reset.
Rat Monthly Horoscope: December 2022
Until the month of the Rat runs its course on 23rd December, you are still exploring your options and rediscovering your personal truth in the early weeks of this new personal 12 month lunar cycle. The month of the Rat is not just a chance to return to your native energy but is an opportunity for a reset. As you move into a new 12 month lunar cycle you can learn from the past, but the slate is wiped clean and this is an opportunity for a fresh start. A Rat Moon from 21st December to 23rd December will help you finalise your intentions and resolutions for the coming year. It is then that the focus shifts to the lucrative Month of the Ox, a month that is not just about the money but about attracting what you deserve from across all the currencies in your life.
14

80

78

83

96

71

23

59

100
Power Numbers: 6, 22, 34, 37, 49, 59
Friendly Signs: Rabbit & Dog
Beware of: Rat
Colour of the day: Aqua
Born Today: Evelyn Underhill, Lynn Fontanne, Ira Gershwin, Alfred Eisenstaedt, Dave Brubeck, Jobeth Williams, Cindi Wafstet
---
You may also like