Rat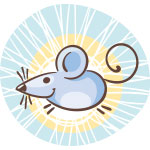 2020, 2008, 1996, 1984, 1972, 1960
---
Sep 26, 2022
Sep 27, 2022
Sep 28, 2022
---
Wednesday, September 28, 2022
Your energy levels are high--especially when it comes to causes and people who are dear to your heart. Memories from your past may be what's driving a need to get involved in causes that would benefit those close to you or underdogs you have a soft spot for.
Rat Weekly Horoscope: Sep 26 to Oct 2, 2022
Just starting the week under a social and serendipitous Dog Moon is getting the week off to a good start. However, it is Monday's New Moon that also kicks off the month of the Dog, which for the Rat is a busy, vibrant and socially engaged month. Starting the week on a New Moon means that the Moon is also just starting its growth phase, creating a week where there are likely to be places to go and people to see. For the first time in 12 years, the month of the Dog is falling during the Year of the Tiger, something that not only makes it easier to communicate but where things are likely to flow more smoothly, knowing that they are natural allies.
Rat Monthly Horoscope: September 2022
For the Rat, the competitive and professionally charged month of the Rooster is an exciting month both personally and professionally. The Rooster combines a competitive spirit with a practical approach to doing whatever it takes for as long as it takes. The Rooster doesn't just help you set personal or professional goals but is a call to do whatever it takes for as long as it takes. The Rooster runs a tight barnyard and is not into wishful thinking, so if you want something to happen it is up to you to make it happen. The month of the Rooster will run through to 25th September, when a New Moon will usher in the more social and serendipitous month of the Dog.
100

35

9

3

85

36

34

37

28
Power Numbers: 3, 4, 28, 55, 57, 62
Friendly Signs: Snake & Dragon
Beware of: Pig
Colour of the day: Cornsilk
Born Today: Ed Sullivan, Max Schmeling, Stephen Spender, Al Capp, Marcello Mastroianni, Brigitte Bardot, Hilary Duff
---
You may also like